The hotels we use for our tours all have their own particular charm and character.
We take you to small establishments, which reflect a typical Portuguese atmosphere . All rooms have en-suite bathrooms.
On a continuing basis, we collect information and feedback about all of the hotels we use, to make sure you get the best of the regional atmosphere, while comfort and cleanliness are guaranteed.
These hotels form an important part of our holidays.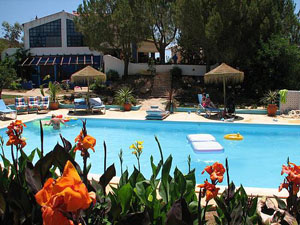 Cycling Holidays Portugal is a member of Responsible Travel, an English organization promoting eco-friendly holidays.
This is what some people who found us through Responsible Travel wrote about the hotels we use on our tours:

Sasha Hannah top 5 star review
"…there is no one moment that stands out - it was all so well organized, the accommodations excellent"

Kevin Keating top 5 star review
"…the trip was a pure and delightful adventure. Hotels were great - they were above average - they had great pools and the staffs were very accommodating. The attention to those details as well as the equipment provided, support available if something happened , was very much appreciated and better than what we had experienced with other tours in the past."

Mark Lowenstine 4 star review
"…we enjoyed the diversity in accommodation, which were all very good to excellent.
One of our very favorites was the bed and breakfast just outside the town of Carrapateira, in a tiny West Coast beach community."


Mary Jane Ferrill top 5 star review
"…the accommodations were superb. Bert has taken so much time and effort to personalize this holiday, that it makes this a truly exciting adventure. This is very important to me: Never once did I feel unsafe in any of the places we visited. Thanks Bert!! Good Job!!"

Barbara Lamplugh review 4 star review
"…the most memorable and exciting part of your holiday was without a doubt, our time at Carrapateira on the west coast - the beautiful, peaceful natural environment, vast empty beaches, dramatic sea and also our lovely accommodation there, with an owner who couldn't have been more helpful and friendly."

Jayne Fahy top 5 star review
"…the accommodation at Carrapateira stands out as our favorite place to stay, not just the fantastic location but the warmth of our host."